Structure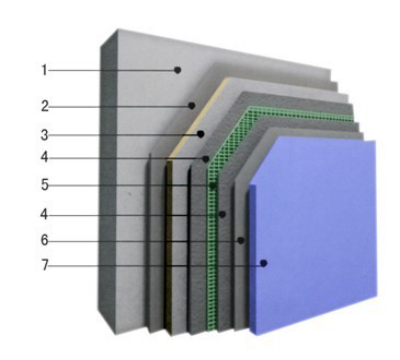 1- base course wall
2- 2-adhesive mortar
3- 3. YGHY PU composite panel
4.anti- crack mortar
5. alkali- resistant mesh
6. exterior wall putty
7. exteriorwall coating
Performance:
Item

performance




PU core material

(Kg/m³)

Density

≥32

(W/m·k)

Thermal conductivity

≤0.022

%

Water absorption

≤3

PU composite panel

%(70±2℃,48h)

Dimensional stability

≤1

(Kpa)

Compression strength

≥150

Flammability

B1

(mm)Deflection

≥6.5

(Mpa)Tensile strength when perpendicular to the surface

≥0.10

Failure occurs in the core material
Constructionprocess

The construction process of PU thermal insulation panel system forexterior wall is the same as that of EPS boards.
Product Features
1、 Optimal insulation property。
The thermal conductivity of polyurethane foam panel is the lowest ofall the insulation materials, and can easily meet the target of energy-saving75%.
2、Fire safety
Rigid PUfoam belongs to thermosetting material, and the flame- retardant polyurethanedoes not have the property of flame spread. According to the fire test, thereis no need to set fire barriers.
3、Safe construction。
Both sides ofthe PU panel are cement-based. When it is affixed to the base course wall with decorativemortar, it will never fall off.
4、Simple process& high efficiency
5、Stableperformance& durability
6、High economic efficiency
Wall thickness is reduced by25px, will increase 0.2% -0.3% of the indoor area, thin polyurethane compositeboard material, high economic efficiency.